Thursday, December 6, 2018
3pm – 8pm
Vendor Information
Click here to download this Vendor Information page in a PDF file
VENUE:
The Metro – 2 South Prospect Street, Kingston
REGISTRATION & FEES:
All artists and businesses located within the City of Kingston are encouraged to apply. City of Kingston is defined as located within one of the 9 wards that make up the City of Kingston, whose boundary is shown here.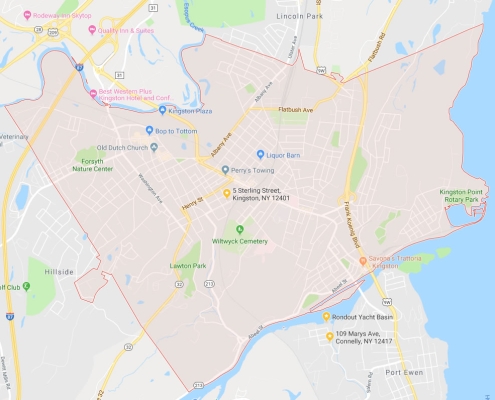 (click to enlarge)
Vendors will be accepted on a first-come, first-served basis as space allows.
$45 by September 30, 2018
$55 by October 15, 2018
Application deadline: October 15, 2018
Vendors will be assigned an 8-foot-wide space. This includes an 8-foot table, white tablecloth, and chair. You may not exceed the 8-foot table space in any manner, including racks, displays, and signage. Anything jutting into the walkway in front of your assigned space or the passage between you and your neighbor (even if they agree) will need to be removed. If you use your own table(s)/rack, they need to fit within the 8-foot space.
Payment due with application. If you are not a Kingston business, or booth spaces sell out, you will receive a full refund.
FOOD VENDORS:
A food permit is required. Permits are $50 from the health department; apply well in advance to allow time for the health department inspection.
FINE ARTISTS:
MAD (Kingston Midtown Arts District) is sponsoring a fine art wall space for $25 per artist. Details and application available at www.madkingston.org. Contact Ray Curran with questions at mail@madkingston.org. Artists may apply for both a wall space and booth space; please apply and pay for each space separately.
SET-UP/BREAKDOWN:

Set-up: Opens at 12pm. Vendors must be fully set up before the 3pm start time.
Breakdown: Please do not break down your booth before the event ends at 8pm. Fold your table and leave in your space for collection. Fold your tablecloth and leave in designated spot.
PARKING:
Vendors will have a parking pass good for 20 minutes at the entrance to unload. Vendors will need to remove their vehicle immediately after unloading and park in the designated vendor parking area, not where customers park. No exceptions!
There will be a volunteer to direct you to vendor parking. Handicapped parking will be available for those with a permit.
Thank you to our sponsors for helping us keep this event at a very reasonable fee!
Questions: karen@karmabee.com