For immediate release – June 15, 2017
Information: madeinkingstonny.com
Pat Courtney Strong pat@courtneystrong.com 845/331-2238
Made In Kingston Awards First Annual Scholarship for a Graduating
Kingston High School Senior
Kingston, NY – The first annual Made In Kingston scholarship has been awarded to a graduating senior at Kingston High School.
The scholarship was to be awarded to a student with a GPA of an 85, or better, who plans on pursuing a career in the fields of either art or technology.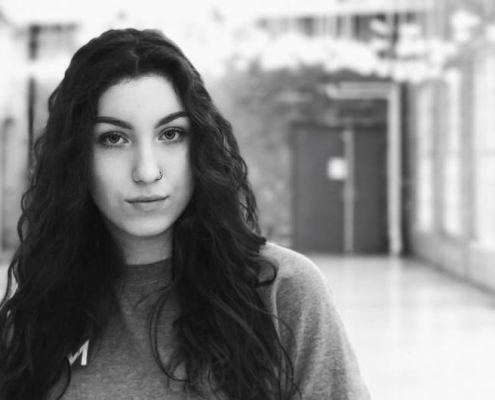 Raquelle DeCicco, a 2017 graduate of Kingston High School, was awarded the $1,000 scholarship as part of the high school's June 12 awards night ceremony. "We were pleased to award this scholarship to Raquelle, because her application clearly showed that she's a well rounded, arts-oriented student," said Made in Kingston scholarship committee co-chair, Tommy Keegan of Keegan Ales. "We know she'll make great use of this scholarship."
Ms. DeCicco plans to major in Fine Arts at the State University of New York at Purchase, with a minor in metal work. "I was particularly excited to see that this student had an interest in metal work," said Sara Beames, Beames Designs, co-chair of the scholarship committee. "We hope this scholarship helps Raquelle continue pursuing her dreams."
Made In Kingston is an expo of all things made in Kingston, held annually in December. The event is free and open to the public, featuring more than four dozen local artists, food, beverages, and musical entertainment. The City of Kingston is a sponsor, along with more than a dozen local businesses. Last year's event drew a capacity crowd to Ferrovia Studios on Railroad Avenue in Midtown Kingston.
The 2017 Made In Kingston event will December 7 at The Metro, an arts venue under development at 2 South Prospect St. at Greenkill Ave. Historically, the event has showcased Midtown Kingston properties that are being redeveloped.
Photo – from left: The 2017 Made In Kingston Scholarship Committee: Sara Beames, Tommy Keegan, Ashley Knox, Joe Gonzalez and Symone Knox.